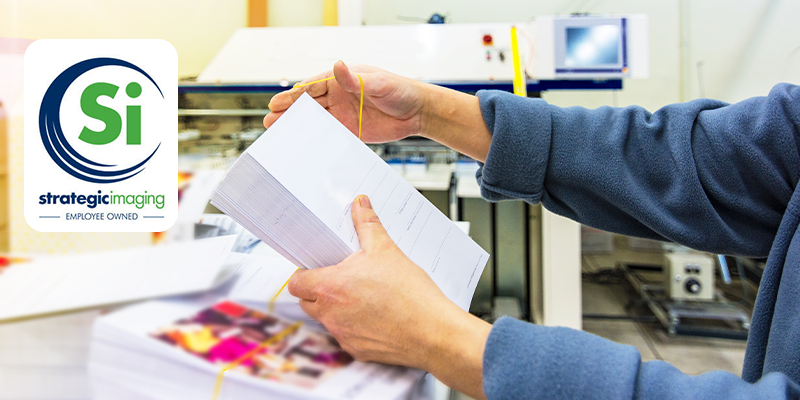 If you've ever received a personalized piece of direct mail marketing, it's possible you've wondered how you received a piece of mail so targeted to you. Or maybe you own a business and are looking to make your advertising more effective and searching for a solution. In either case, the answer is variable data printing. You may have heard this term before, but do you know how it's done or how effective it can be? Let's take a look at what variable data printing companies do and how they can deliver strong results with targeted direct mail campaigns.
What is Variable Data Printing?
Variable data printing (VDP) is a printing technique that involves the use of digital printing technology to produce customized documents in which specific elements can be changed from one printed piece to the next. These customizations can include:
Text
Graphics
Images
Bar codes
QR codes
This printing method allows for the creation of personalized documents that are tailored to the needs and interests of individual recipients. Variable data printing is often used in direct mail marketing, where it can help to increase the effectiveness of campaigns by allowing businesses to create targeted, personalized communications for their customers. It can also be used in other applications, such as creating personalized educational materials, event tickets, and more.
How does Variable Data Printing Work?
In variable data printing, the process begins with the creation of a digital file that contains the elements that will be customized in each printed piece. This file is often created using specialized software that allows the user to design the layout and add text, images, and other elements to the document.
Once the design is complete, the file is sent to a digital printing press, which prints each piece individually. The printing press is equipped with software that reads the data in the file and makes the necessary customizations for each piece. For example, if the document being printed is a direct mail piece, the printing press might be programmed to insert the recipient's name and address into the appropriate fields on each piece. It might also be programmed to include customized graphics or images based on the recipient's interests or other data.
Overall, the process of variable data printing allows for the creation of highly personalized documents that can be tailored to the needs and interests of individual recipients. Most importantly, these pieces can be created very quickly without needing to make customized adjustments during the printing process. Variable data printing allows personalized materials to be produced during bulk printing runs.
What Types of Pieces Are Used for Variable Data Printing?
This type of printing is often used for mass-customized marketing materials, such as direct mail campaigns or personalized brochures that can be completed without slowing down the printing process. Some common types of variable data printing pieces include:
Direct mail pieces: These are personalized letters, postcards, or brochures that are mailed directly to a specific recipient. The content of each piece can be customized based on the recipient's interests, location, or other information.
Variable data labels: These are labels or stickers that contain variable information, such as a serial number or expiration date.
Personalized brochures: Brochures that contain information that is specific to a particular recipient, such as their name or location.
Business cards: Business cards that contain information that is specific to a particular individual, such as their name, job title, and contact information.
Personalized coupons: Coupons that contain a unique code or offer that is specific to a particular recipient.
How Effective is Variable Data Printing?
Variable data printing generated $10.5 billion in revenue in the U.S. in 2021 and that figure is expected to grow to more than $31 billion by 2030. So how is variable data printing generating so much revenue? The answer is simpler than you may think – personalization generates more interest. Studies have shown that even making minor personalization to a mailer can have a dramatic impact on response rates to direct mail campaigns. Studies have shown variable data printing can increase response rates by as much as 200-300 percent.
How do I Start Using Variable Data Printing for my Marketing?
To properly implement variable data printing into your marketing strategy, you need to work with a printing provider who has the technology to create the customized pieces you need. At Strategic Imaging, we specialize in variable data printing and our team is ready to help you create the right pieces to improve your ROI on your direct mail campaigns.
Contact us today to discuss how we can help you implement and execute a variable data printing marketing campaign.
January 17, 2023 by VGM Strategic Imaging